Hunt Immigration Lawyers
At Hunt Migration we're a close team of immigration lawyers and registered migration agents. We only settle for the best when it comes to securing your visa and a future in Australia. With offices across Australia and around the world, our lawyers and agents come from a diverse background and have vast experience in several types of immigration pathways. Contact us to speak to one of our knowledgeable agents today who will be able to assist you in the next phase of your journey.
Our specialisms at Hunt Migration Lawyers include:
Business visas – Whatever type of business visa you're looking for, we'll be able to advise on the correct way forward. Whether you're an entrepreneur or a business owner, let us guide you through the process to ensure smooth sailing through the relevant channels
Employer sponsored visas – There are plenty of options out there for employer-sponsored visas whether you're an employee looking to further your stay in Australia or you're a business looking to retain talent. Talk to us about the recent changes and how this might affect you migration journey
Family visas – Choose the correct family visa and reunite your family or loved ones. We've helped over 8,000 people find their correct journey for over 10 years and we love what we do! Talk to our experienced migration lawyers to understand what visa is best for you according to your circumstances
Skilled visas – If you have a particular skill and think that you might be eligible for a certain skilled visa and you do not have a pathway through your current employer, then speak to us about your options today
Graduate visas – If you're planning on staying in Australia after you finish your studies, then speak to our many agents across the country who will be happy to help and give advice about the next steps during a free consultation
With offices in Brisbane, Sydney, Melbourne, Perth, Canberra, and Cairns we're able to provide sound advice either online or during a free, no-obligation meeting in order to assess your next steps in your migration journey.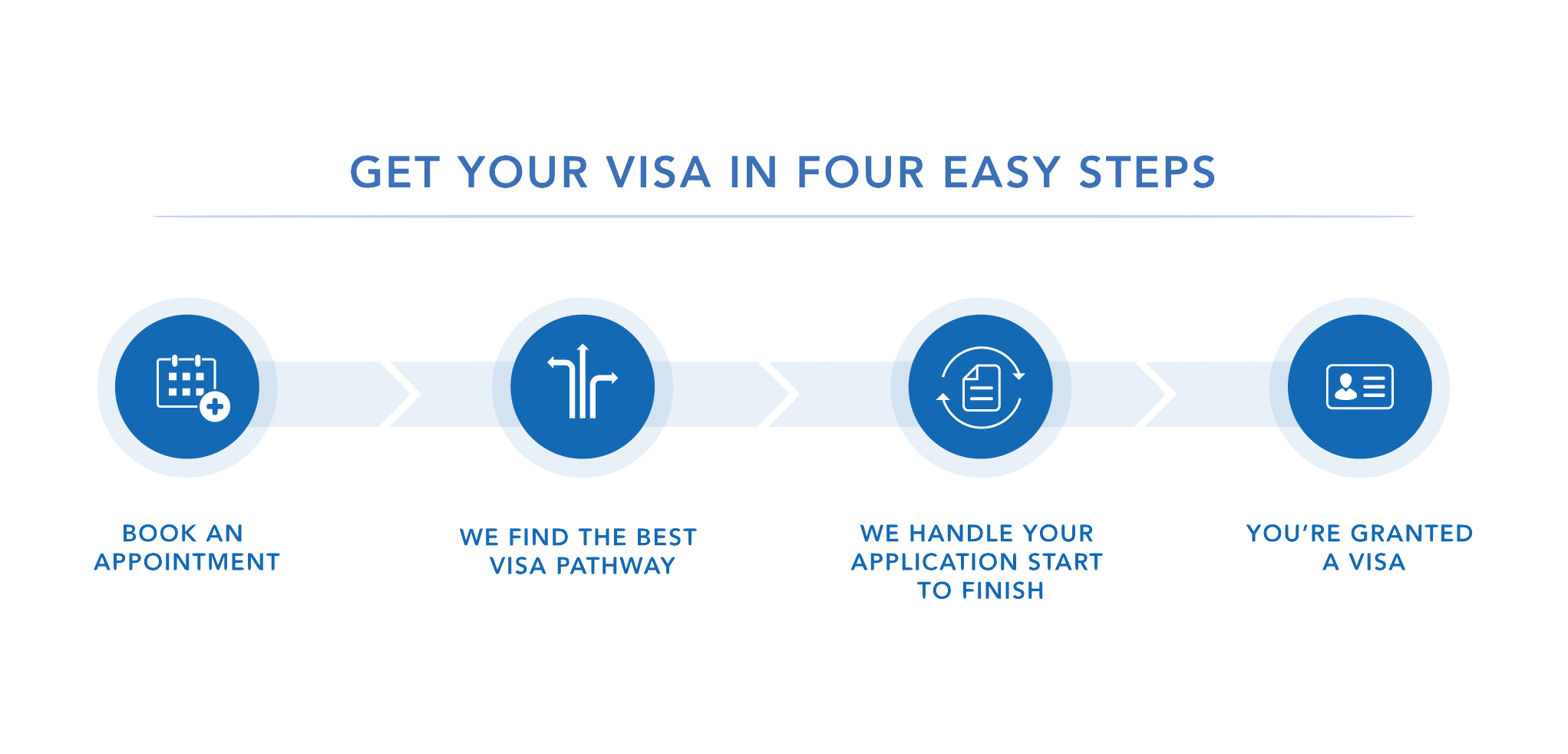 Get your visa in four easy steps